Well, it's day one of our
vacation week
, and what does that mean? Day one of our fabulous guest bloggers! And we are starting off with a bang, because today we have freaking sassy, creative Jessica from her hilarious blog,
Monster Cakes
, starting us off with a tutorial that is going to knock your socks off. Seriously Jessica, you are amazing. And here she is:
Well hello new friends! I'm honored to guest blog for these lovely ladies, and I'm delighted to meet you guys. You can normally find me over at my personal life and style blog,
Monster Cakes
, rambling about life with my mister and our giant pups. So don't be strangers!
Two things you must know about me: I really like throwing parties. And I currently have a love affair with chalkboard paint. So I hope you enjoy this simple summer project to spruce up your next summer BBQ.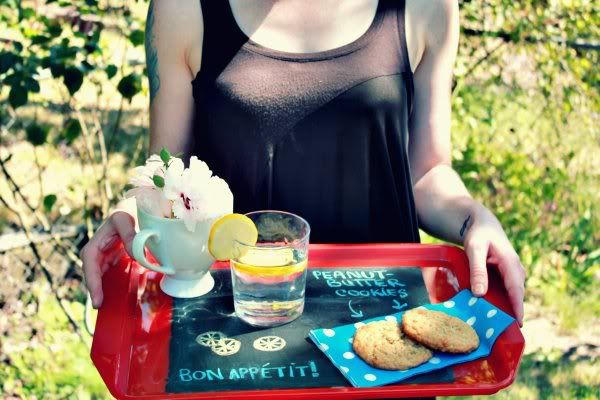 I found
this
oh-so-cheery plastic serving tray at Target recently and decided it would be $3 well spent. With a little chalkboard paint, a glass of lemonade, and little-to-no drawing skills, I was able to spruce it up and make it the star of my next shin dig.
Now if you'll excuse me, I'm going to go spray chalkboard paint on my fridge and see if the mister will notice...
I told you. Your socks are long gone, huh?
Thank you Jessica!
Labels: guest post