Does anyone else feel like Labor Day is a little depressing? Of course I think it's so great to have a long weekend, a day off, and major sales for shopping, but it also means summer is over. And yesterday's weather in our neck of the woods, with its coolness and cloudiness, confirmed that summer really might not be returning until 2012.
So, today I will be sharing what might possibly be my last summer-y outfit, complete with shorts, sandals and bright colors. RIP summer. You were sooooo good to us.
top: thrifted $4, shorts: Walmart (yes, I know it is the devil, but they were so cute. judge me.) 12.00, sandals: Kmart 9.00, necklace: Kohls 6.50
I guess that now is the time to start embracing the idea of boots, sweaters, tights, and scarves. It won't be easy, but it will be cute, so I will do my best to gracefully make the transition. Plus, the change does bring with it the changing of the leaves, and desserts with pumpkin in them, and snow, which means Christmas, so maybe I can handle this. Bring it on.
And another cure for the post Labor day blues is the announcement of the winner of the Ella Bella Notes giveaway:


---



Congratulations Cat! Email us at prettylifeanonymous@gmail.com and we will get everything taken care of for you.

And there is one more thing. We have been getting emails from a number of you who have been frustrated over our comments not working, and we can't blame you! So...we are going to try out using disqus for awhile and see if it cures our commenting woes. Let us know if you have troubles, will you? 'Preciate ya.
Have a good day!
XO-S.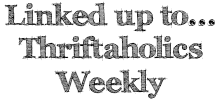 Labels: style