Remember when we decided we were going to make this blog a mix of fashion and lifestyle? Well, since then, there has mostly just been fashion. So here comes some life. And style. Ready?

Yesterday I had the day off and spent it with my cute mom. She wanted to update her living room, so we painted a wall (thanks cousin KG for the help on the paint color... it was perfect). She also had a wall that was a little bare on the decoration side, so we decided to get creative on a budget. Because that's how we do things in our family. We headed to the thrift store, where we found this weird metal shelf thing and this framed picture for a total of $7.98:



We took apart the frame, threw away the picture (so sad, I know), and separated the frame and the glass.





Then we busted out the spray paint, of course, and painted the shelf and the frame.


Next we glued the glass back into the frame.
We attached the framed glass to the shelf and turned it all into a cute little glass-top side table.
I am majorly proud of this project. It was my brain child, and honestly I think it was kind of brilliant. So please validate me. It would do me good.
Yours truly,
-S.
PS-Don't forget about the
giveaway
that ends tomorrow!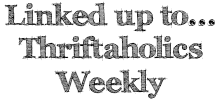 {linked}
Labels: diy