I didn't actually wear this today. I wore it a couple of days ago, but I hope you don't mind.

Today I am dressed a little more conservatively than usual because I will be at a funeral, the circumstances of which I am quite heartsick over. However, I still find I want to blog because it seems to be a momentary escape from all the messy stuff in real life, ya know? What I will say about the whole thing is that it has been a great reminder to treat everyone with all the kindness we can, and to let the people we love know that they matter. Am I making you feel weird yet? Good. I know you wanted a good moral scolding this morning.

Now, do you want to see my new thrifted Coach wedges or what? I thought so. And when you can barely buy a scarf from Coach for under $70, I was beyond pleased when I found these nearly-new beauties for $7 at my local thrift store.





Cute right? And when paired with one of my fave denim shirt-dresses it made the perf summer outfit.







Have a lovely Monday, won't you? It's summer and it's sunny, so take a deep breath,
have a diet coke and have a great day.
XO/ W.
And don't forget to enter this fab
giveway
... you are running out of time!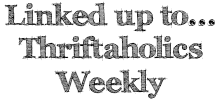 Labels: style