Lets get real.
Doing a collage takes me a reeeally long time. I'm a novice. And I'm no good. Some bloggers are real breezy with their fancy collage posts and whip those suckers out like it's just whatever.
Me? I google. And I search. And I can't find any of the pretty things I am picturing. Or with a white background. And the colors aren't right. And I can't remember the link to that one sweater. And it stresses me. And then I want to throw my mouse. Far. And then I look at the clock and 3 hours have gone by and my collage isn't done. And neither is my work. You know, at my job. That I get paid to do. When instead I am blogging. Or collaging. And not well. And then I take a break for a while. And I have a diet coke. And this gives me strength to collage again. And then I google "ruffles." And this brings up lots of pictures of potato chips. And this pleases me. And then I remember how much I love ruffles. The potato chip. And the fashionable kind.
And then before I know it, the collage is finished. And it is ruffley, because if toiling over a collage of ruffles isn't worth it, then what in the world is?
Top: Kohls $12.99, Cardigan: Target $9.99, Belt: F21 $3.99, Slacks: Ross $7.99,
Heels: Charlotte Russe 9.99, Bangles F21: $2.99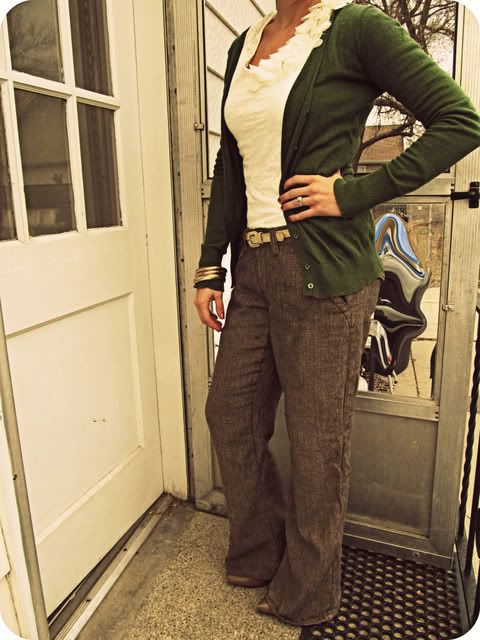 And we love them so much that we have our first
little giveaway to celebrate our first week at this
little blog and it is, you guessed it, ruffley.
To enter, follow our blog and leave us a comment that you did.
-Tweet about our giveaway
-Add our blog to your blogroll
-Post about our giveaway on your blog
Make sure and leave us a comment about
what you do for extra entries!
Giveaway will be open until Friday, January 28th.