I decided today in church that all you need to do to ramp up your attention-getting level is wear tights. Bright ones. Or patterned ones. Or textured ones.
Already tried it? Still not getting the attention you crave? Throw in some old people. Preferably ones that say things like "you kids with your interweb and portable phones...grumble grumble" or who think nude-'hose'-clad-legs are the foundation of a real proper lady.
Then, once you have on said wild tights, just walk on by your old person and brace yourself as the aged fashion commentary ensues. You'll get gems like "Kids these days...", "I don't know what is so wrong with simple black," and "I'm sure her Mother is just as worried as we are."
You will be positively showered with attention. The old people will wonder if there is any hope for you, but they figure at least you are at church so maybe your soul isn't lost. And your need-for-attention reservoir will be filled with more unwanted attention than your little heart could ever desire.
Want to see the tights that got the sweet seniors at church all in a frenzy?
These seemingly harmless argyles: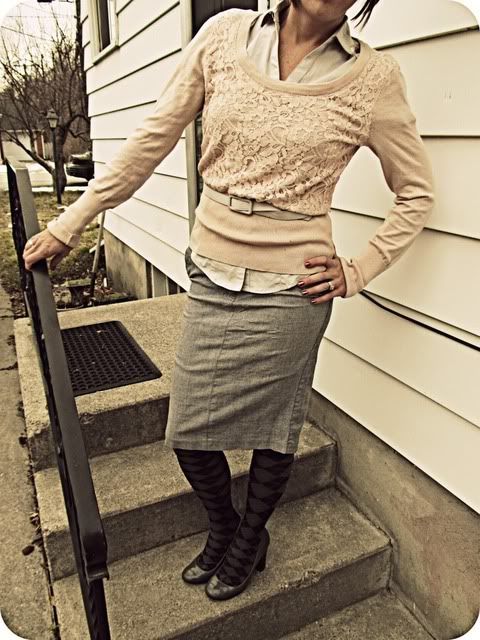 Blouse: F21 $7.99, Sweater: Kohls $14.99, Skirt: Wet Seal 10.99, Tights: Walmart $3.99, Shoes: Old Navy $5.99
Once you get home you will need to recover from attention overload. I recommend taking a long afternoon nap, followed by watching "Stranger than Fiction" and snuggling with your lover, while eating popcorn + hot chocolate.
-W.
Labels: style